Stampede: Racing Royale's second Playtest swerves onto Steam on 21 August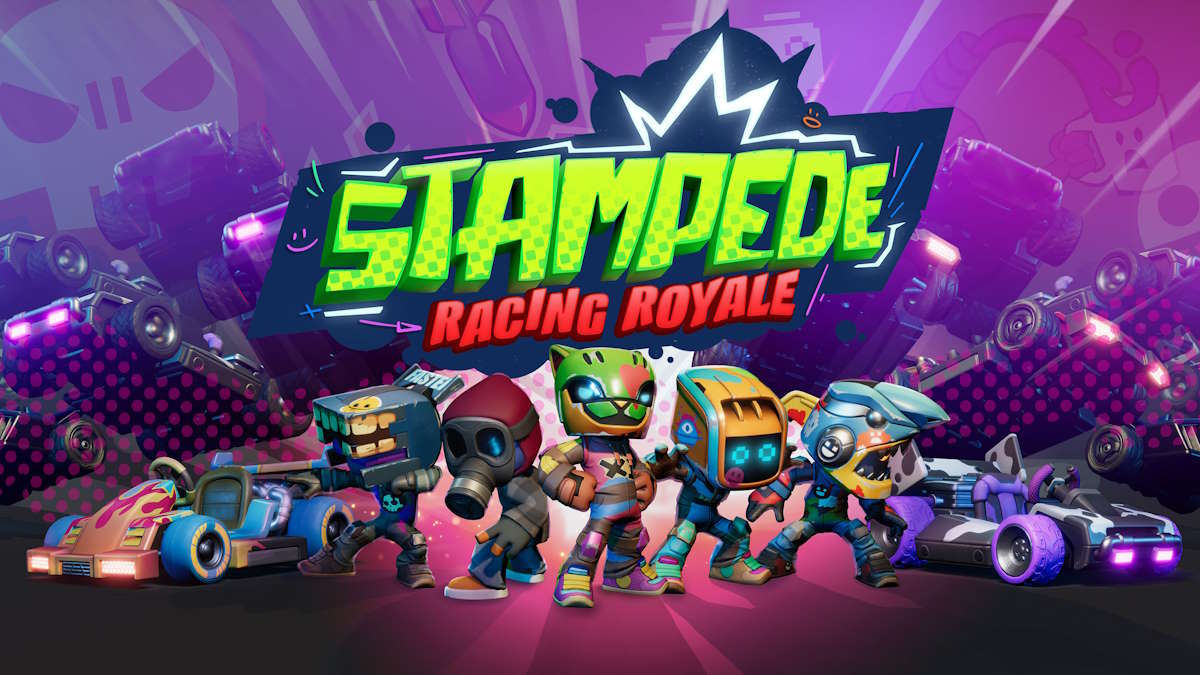 Stampede: Racing Royale's second Playtest swerves onto Steam on 21 August
New cosmetics and bug fixes are just around the corner
Leamington Spa, UK – 15 August 2023: After a quick pit-stop for a new set of tyres, Stampede: Racing Royale is ready for a second Steam Playtest. The Sumo Leamington-developed, Secret Mode-published, 60-player battle royale kart racer will be hitting the track once again from 21-28 August for another round of racing mayhem.
Building on the first Playtest, there will be a wealth of bug fixes based on player feedback. All the same tracks will be returning from the previous Playtest, with new cosmetics added to switch up your style. Further content is planned for the game's Early Access launch later in 2023.

The second Steam Playtest for Stampede: Racing Royale will run from 21-28 August, with full patch notes shared on the game's Steam page. The game will launch into Early Access later in 2023 – fans should follow Stampede: Racing Royale on social media and make sure to watch Into the Infinite: A Level Infinite Showcase at Gamescom on 23 August for some exclusive news about the game.
About Stampede: Racing Royale

Welcome to Stampede: Racing Royale – the wildest racing event in existence. Step on the gas in thrilling kart racing and battle events, with 60 participants all competing simultaneously. Harness your skills and a huge range of power-ups to steer your way to the front of the herd across in classic circuit racing, or fight the crowd head-on to score the most points in arena-based battles.
RACING ROYALE

Stampede: Racing Royale pits 60 players against one another across three-round eliminator events, culminating in a high-stakes finale to crown the winner. Rounds include Stampede Races, which offer classic karting action on outrageously inventive circuits against up to 59 other opponents, and Stampede Battles, where competitors are locked in power-up laden arenas to fight their way to victory.
COLLECT & CUSTOMISE

Keep racing to unlock new vehicles and endless customisation options. Find your favourite kart and make it your own with custom paints and stickers. Dress your character in the finest threads to make sure you and your wheels really stand apart from the herd.
LIVE 24/7

There's always something to be part of in the world of Stampede. Seasons, Events, Challenges, and much more mean the ways you can race are constantly changing, with new rewards always up for grabs.
RACE WITH FRIENDS

Start or join a party to experience the chaotic action of Stampede: Racing Royale with friends and family.
Stampede: Racing Royale official website:
https://www.StampedeRacing.com
Download assets from our press kit: https://www.dropbox.com/sh/376leskydig9x4b/AADU5hxpyI3lnig3zibuTOAIa?dl=0
Stampede: Racing Royale is coming to PC via Steam Early Access in 2023, and later to consoles.
Register your interest for Steam Playtests, with the second Playtest taking place from 21 August until 28 August.