Stampede: Racing Royale sets off on first Steam Playtest from 27 July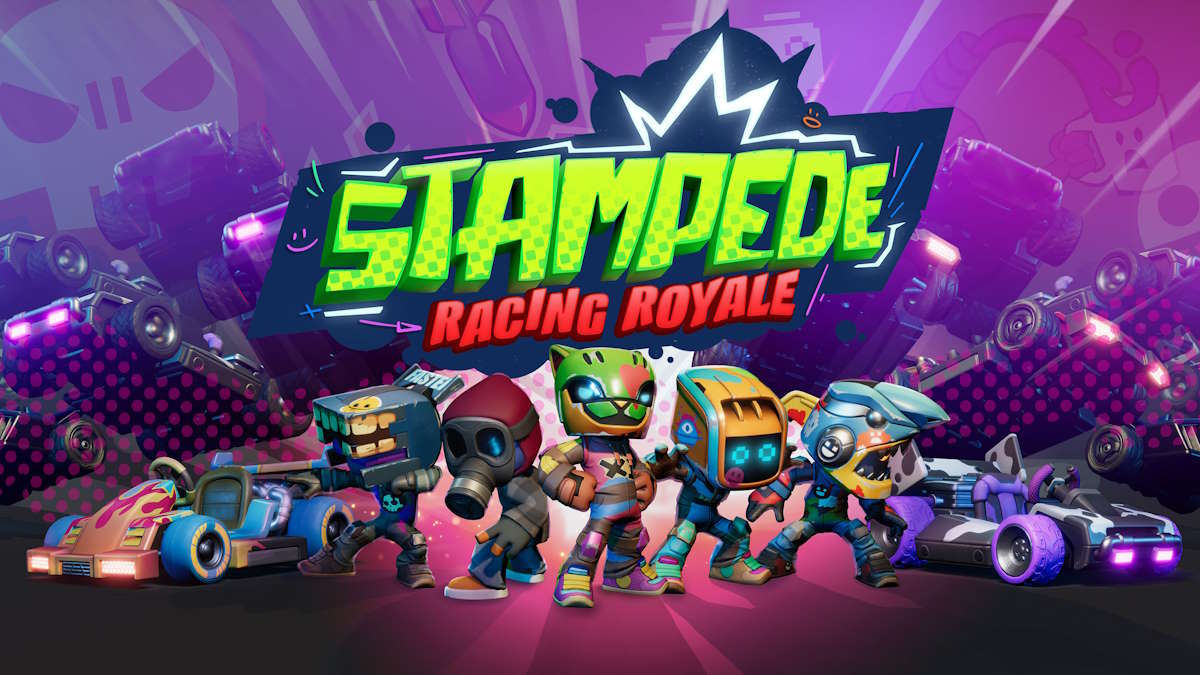 Stampede: Racing Royale sets off on first Steam Playtest from 27 July
First chance to join the herd in 60-player battle royale matches
Leamington Spa, UK – 18 July 2023: It's time for a warm-up lap of the world's wildest race! Stampede: Racing Royale, the 60-player battle royale racer from developer Sumo Leamington and publisher Secret Mode, is revving up for its first Steam Playtest on 27-31 July.
Registered players will get the chance to jump into the fast-paced, chaotic races and battles of Stampede: Racing Royale for the first time. Eight race maps and one battle arena will be available for players to test out, with over 50 customisation options on offer to stand out from the rest of the herd. More tracks, arenas, and customisation options are currently in development.

Stampede: Racing Royale is designed to evolve and grow around its community, and so this Playtest will contain early work-in-progress content. All players will receive a feedback form during the Playtest to provide their thoughts and suggestions, and highlight any bugs found in this early version of the game. As data is reset between each Playtest, progression and unlocked items will not carry over to future Playtests or Early Access.
Stampede: Racing Royale's first Playtest will take place on Steam on 27-31 July, with a Steam Early Access release due later in 2023.
About Stampede: Racing Royale

Welcome to Stampede: Racing Royale – the wildest racing event in existence. Step on the gas in thrilling kart racing and battle events, with 60 participants all competing simultaneously. Harness your skills and a huge range of power-ups to steer your way to the front of the herd across in classic circuit racing, or fight the crowd head-on to score the most points in arena-based battles.
RACING ROYALE

Stampede: Racing Royale pits 60 players against one another across three-round eliminator events, culminating in a high-stakes finale to crown the winner. Rounds include Stampede Races, which offer classic karting action on outrageously inventive circuits against up to 59 other opponents, and Stampede Battles, where competitors are locked in power-up laden arenas to fight their way to victory.
COLLECT & CUSTOMISE

Keep racing to unlock new vehicles and endless customisation options. Find your favourite kart and make it your own with custom paints and stickers. Dress your character in the finest threads to make sure you and your wheels really stand apart from the herd.
LIVE 24/7

There's always something to be part of in the world of Stampede. Seasons, Events, Challenges, and much more mean the ways you can race are constantly changing, with new rewards always up for grabs.
RACE WITH FRIENDS

Start or join a party to experience the chaotic action of Stampede: Racing Royale with friends and family.
Stampede: Racing Royale official website:
https://www.StampedeRacing.com
Download assets from our press kit: https://www.dropbox.com/sh/376leskydig9x4b/AADU5hxpyI3lnig3zibuTOAIa?dl=0
Stampede: Racing Royale is coming to PC via Steam Early Access in 2023, and later to consoles.
Register your interest for Steam Playtests, with the first Playtest taking place on 27-31 July.