Stampede: Racing Royale charges towards PC and consoles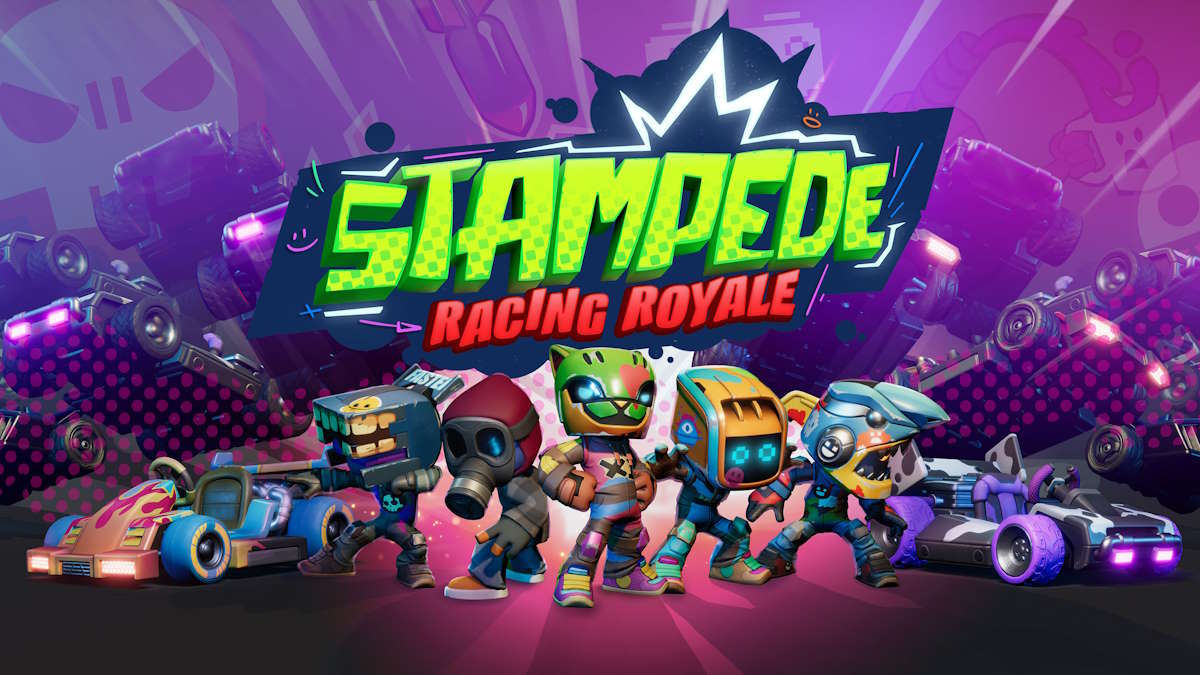 Stampede: Racing Royale charges towards PC and consoles
60-player karting battle royale drifts into Early Access on Steam in 2023
Leamington Spa, UK – 11 June 2023: Get ready for the wildest racing event in existence! As announced at the PC Gaming Show, developer Sumo Leamington and publisher Secret Mode are flashing the green light on Stampede: Racing Royale, a 60-player free-to-play battle royale kart racer. The epic new racing game is arriving on PC via Steam Early Access in 2023, with console versions coming further down the track.
Combining competitive, item-fuelled kart racing with the chaos of a battle royale, Stampede: Racing Royale throws 60 racers onto the same track to find the fastest and most furious drivers across the globe. Join the Herd and outrun your opponents in Stampede Races. Deploy destructive weapons to take out the field in Stampede Battles. Survive the chop across three-round eliminators – only one champion will be crowned!

Stampede: Racing Royale is designed to grow and evolve around its community, and player feedback from the upcoming Steam Playtests this summer and Early Access later this year will shape its future. Regular seasons, limited-time events, and other live experiences mean there's always something new for players to discover – and new cosmetic rewards to unlock to ensure your customised kart and racer stands out from the Herd.
"Racing games have been at the core of Sumo Digital since the company was founded 20 years ago, from Outrun 2006: Coast 2 Coast to the Sonic & Sega All-Stars Racing series, and co-development on Forza Horizon 5," says Paul Hollywood, Development Director at Sumo Leamington. "Sumo Leamington is a new studio filled with veterans of racing game development. Our debut title, Stampede: Racing Royale, proudly adds to Sumo Digital's heritage with an innovative new take on the karting genre."
Stampede: Racing Royale is coming to PC via Steam Early Access in 2023, with Steam Playtests taking place this Summer. Stampede: Racing Royale is also coming to consoles.
About Stampede: Racing Royale

Welcome to Stampede: Racing Royale – the wildest racing event in existence. Step on the gas in thrilling kart racing and battle events, with 60 participants all competing simultaneously. Harness your skills and a huge range of power-ups to steer your way to the front of the herd across in classic circuit racing, or fight the crowd head-on to score the most points in arena-based battles.
RACING ROYALE

Stampede: Racing Royale pits 60 players against one another across three-round eliminator events, culminating in a high-stakes finale to crown the winner. Rounds include Stampede Races, which offer classic karting action on outrageously inventive circuits against up to 59 other opponents, and Stampede Battles, where competitors are locked in power-up laden arenas to fight their way to victory.
COLLECT & CUSTOMISE

Keep racing to unlock new vehicles and endless customisation options. Find your favourite kart and make it your own with custom paints and stickers. Dress your character in the finest threads to make sure you and your wheels really stand apart from the herd.
LIVE 24/7

There's always something to be part of in the world of Stampede. Seasons, Events, Challenges, and much more mean the ways you can race are constantly changing, with new rewards always up for grabs.
RACE WITH FRIENDS

Start or join a party to experience the chaotic action of Stampede: Racing Royale with friends and family.
Stampede: Racing Royale official website:
https://www.StampedeRacing.com
Download assets from our press kit: https://www.dropbox.com/sh/376leskydig9x4b/AADU5hxpyI3lnig3zibuTOAIa?dl=0
Stampede: Racing Royale is coming to PC via Steam Early Access in 2023, and later to consoles.
Register your interest for Steam Playtests, starting Summer 2023.