Stampede: Racing Royale's Early Access moved to 2024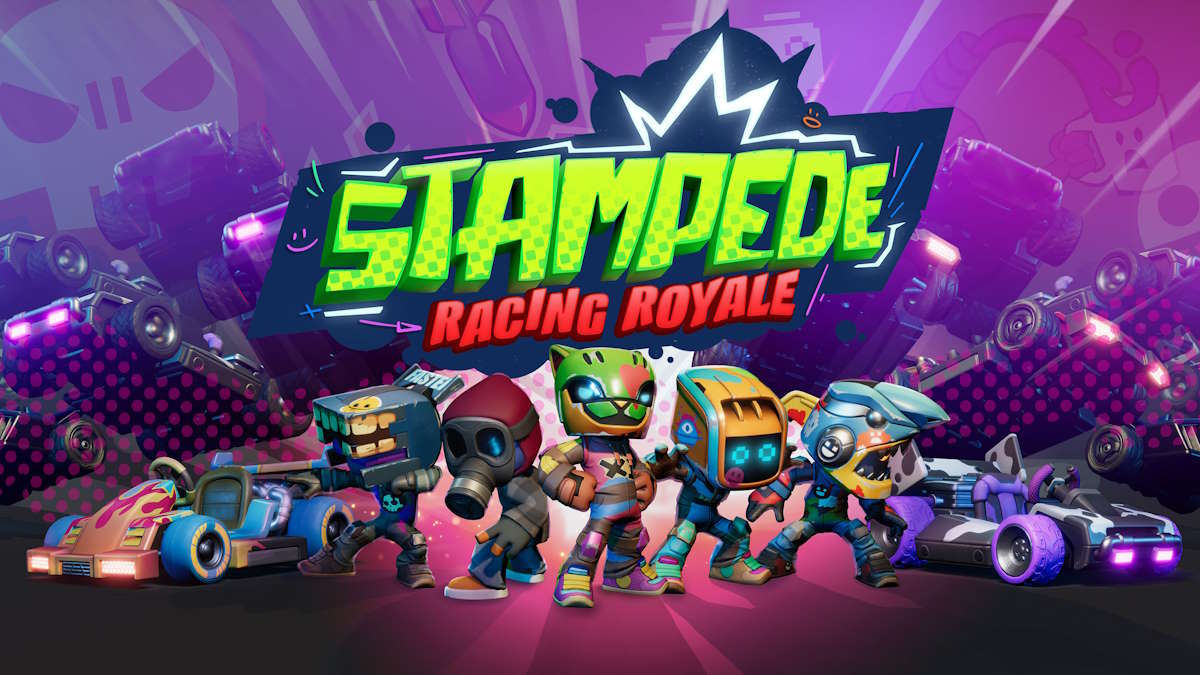 Stampede: Racing Royale's Early Access moved to 2024
The 60-player battle royale racer will now arrive in the first half of next year
Leamington Spa, UK – 18 October 2023: Stampede: Racing Royale, the 60-player battle royale kart racer from the racing veterans of Sumo Digital and publisher Secret Mode, will now be arriving on Steam Early Access in the first half of 2024.
This news follows the successful completion of Stampede: Racing Royale's third public playtest, and the development team at Sumo Leamington has released the following message regarding its updated release plans:
---
We've decided to move the Steam Early Access launch of Stampede: Racing Royale back from November 2. We're now aiming to begin this in the first half of 2024.
Why is this change being made?
Firstly, we're making this change to bring you a game that we feel aligns with what you want to see.
Many additions and improvements that are key to Early Access are in development right now, and some of it isn't quite at the level we want it to be, or you folks deserve. Our team has put so much love into Stampede, and we see how excited you are for it. We'd hate to have it fall short of what's needed and expected from all of us.
Secondly, this is the best decision for our team. We are a studio that seriously cares about the wellbeing of our people. We will not force anyone to work in an unhealthy way to hit targets and deadlines. Shifting Early Access ensures our amazing team remain healthy and supported, to do what they do best.
This change means there will be even more to enjoy in Stampede when we go live – and after hearing your feedback from EGX and Steam Playtest 3, we know it's stuff you'll be excited for!
When is the new Early Access launch date?
We're now aiming for Early Access to launch in the first half of 2024 – so that's between January and June. We know that's vague. We'll share a specific date as soon as this is locked in.
We confirmed previously that console versions of the game are planned for 2024, featuring cross-play capability. This news does not change that, and we plan to provide more updates on this next year.
What will be going on between now and Early Access?
As more work is completed, we'll share content that gives you a closer look at how Stampede is transforming for Early Access. We'll get into the nitty-gritty details on new stuff like Special Events, deeper kart progression, Seasons and Challenges, so you can feed back with thoughts and ideas for our team.
We'll continue to chat with the community and gather your thoughts via our channels, keep updating our Trello board with the status of known hot topics, and keep providing Dev Logs, so you're up to speed on what we're doing. The official Discord server will be live closer to Early Access, too.
Regarding additional playtests, we will keep looking at opportunities to run these, whilst also ensuring we don't take focus away from creating the best game possible for Early Access.
A MASSIVE thank you to our growing Stampede community, who have already provided us with so much support and guidance. We apologise for the change in plans, but can't wait to continue building (and playing) this game with you. We'll be back in touch later this year with more game details.
---
About Stampede: Racing Royale

Welcome to Stampede: Racing Royale – the wildest racing event in existence. Step on the gas in thrilling kart racing and battle events, with 60 participants all competing simultaneously. Harness your skills and a huge range of power-ups to steer your way to the front of the herd across in classic circuit racing, or fight the crowd head-on to score the most points in arena-based battles.
RACING ROYALE

Stampede: Racing Royale pits 60 players against one another across three-round eliminator events, culminating in a high-stakes finale to crown the winner. Rounds include Stampede Races, which offer classic karting action on outrageously inventive circuits against up to 59 other opponents, and Stampede Battles, where competitors are locked in power-up laden arenas to fight their way to victory.
COLLECT & CUSTOMISE

Keep racing to unlock new vehicles and endless customisation options. Find your favourite kart and make it your own with custom paints and stickers. Dress your character in the finest threads to make sure you and your wheels really stand apart from the herd.
LIVE 24/7

There's always something to be part of in the world of Stampede. Seasons, Events, Challenges, and much more mean the ways you can race are constantly changing, with new rewards always up for grabs.
RACE WITH FRIENDS

Start or join a party to experience the chaotic action of Stampede: Racing Royale with friends and family.
Stampede: Racing Royale official website:
https://www.StampedeRacing.com
Download assets from our press kit: https://www.dropbox.com/sh/376leskydig9x4b/AADU5hxpyI3lnig3zibuTOAIa?dl=0
Stampede: Racing Royale is coming to PC via Steam Early Access in the first half of 2024, and later to consoles.