Wobbledogs go shopping with new Grocery Store Pack Wobbledogs go shopping with new Grocery Store Pack
RE: Tail Tomfoolery at 50% off
Los Angeles, California, USA – 6 September 2023: Now you too can answer the question "How much is that Wobbledoggy in the window?" with the newest Wobbledogs update from developer Tom Astle and Animal Uprising: the Grocery Store Pack. Available today for free on PC and Mac to celebrate Wobbledog's new 50% off Steam sale, the Grocery Store Pack enables players to design their own superbarket.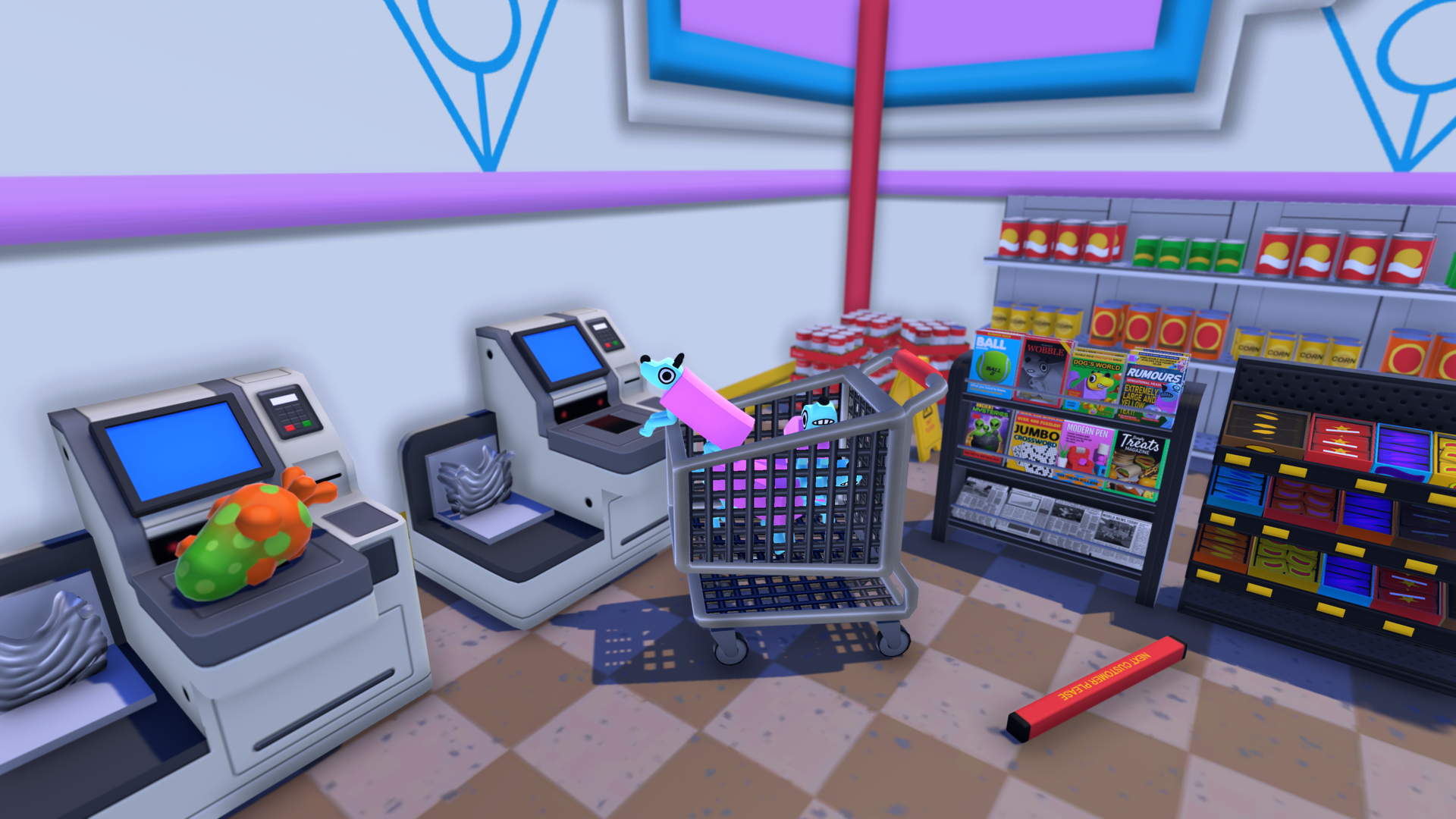 Today's free update is brimming with toys, room features, and shop objects to… checkout:
Food
· Sample Cup with corresponding new flora (Click on or bite Samples Table to dispense this)
Toys
· Grocery Basket
· Checkout Divider
· Hand Scanner
Wallpaper/Carpets
· Supermarket Floor
· Checkered Market Floor
· Cute Market Wall
· Fresh Market Wall
Placeable Objects
· Samples Table - Dispenses Sample Cup
· Candy Display Rack
· Magazine Display Rack
· Self-Checkout Station
· Shopping Cart
· Mop & Bucket
· Wet Floor Sign
· Bag Dispenser
· Bulk Soup
· Dairy Display Wall
· Frozen Foods Display Wall
· Meat Counter
· Fruit Display
· Veggie Display
· Canned Goods Display Shelf
· Cereal Display Shelf
About Wobbledogs
Wobbledogs is a 3D pet simulation where you raise your own personal hive of rapidly mutating dogs, physically simulated all the way down to their guts! It's a casual and chill sandbox experience for players of all ages who want to care for their very own virtual pets in a surprising, unique, and stress-free environment. The dogs start out relatively normal, but mutate and behave in surprising ways as the game progresses and their evolutionary lines advance.
Wobbledogs is out now on Steam.
Wobbledogs Console Edition is available now on PlayStation 4, Xbox One and Nintendo Switch.
Download assets from the press kit:
https://www.dropbox.com/sh/zqecevisr1szvwe/AADkaN5Vy2dEyY4tastbaw1Ha?dl=0
Wobbledogs is out now on Steam at 50% off until 13 September.
About Secret Mode
Greetings from The Bunker! Secret Mode is the publishing wing of the award-winning Sumo Group Ltd. Our goal is to publish internally developed projects from any of our 17 game development studios across the UK, US, Europe, and India, as well as third party independent game developers. We believe that games are for everyone, and that creativity has no limits. We believe quality and fun are everything.
About Animal Uprising
Animal Uprising is the tiny, United States based team that brought Wobbledogs to life. It includes programmer/designer Tom Astle, 3D artist Jordan Speer, and audio designer Sam Keohane. Animal Uprising strives to harness the wild energy of the animal kingdom and serve it up to you in video game form. We embrace a little messiness and believe that creepy and gross is just as important as charming and cute.