Turbo Golf Racing blasts off for Season Three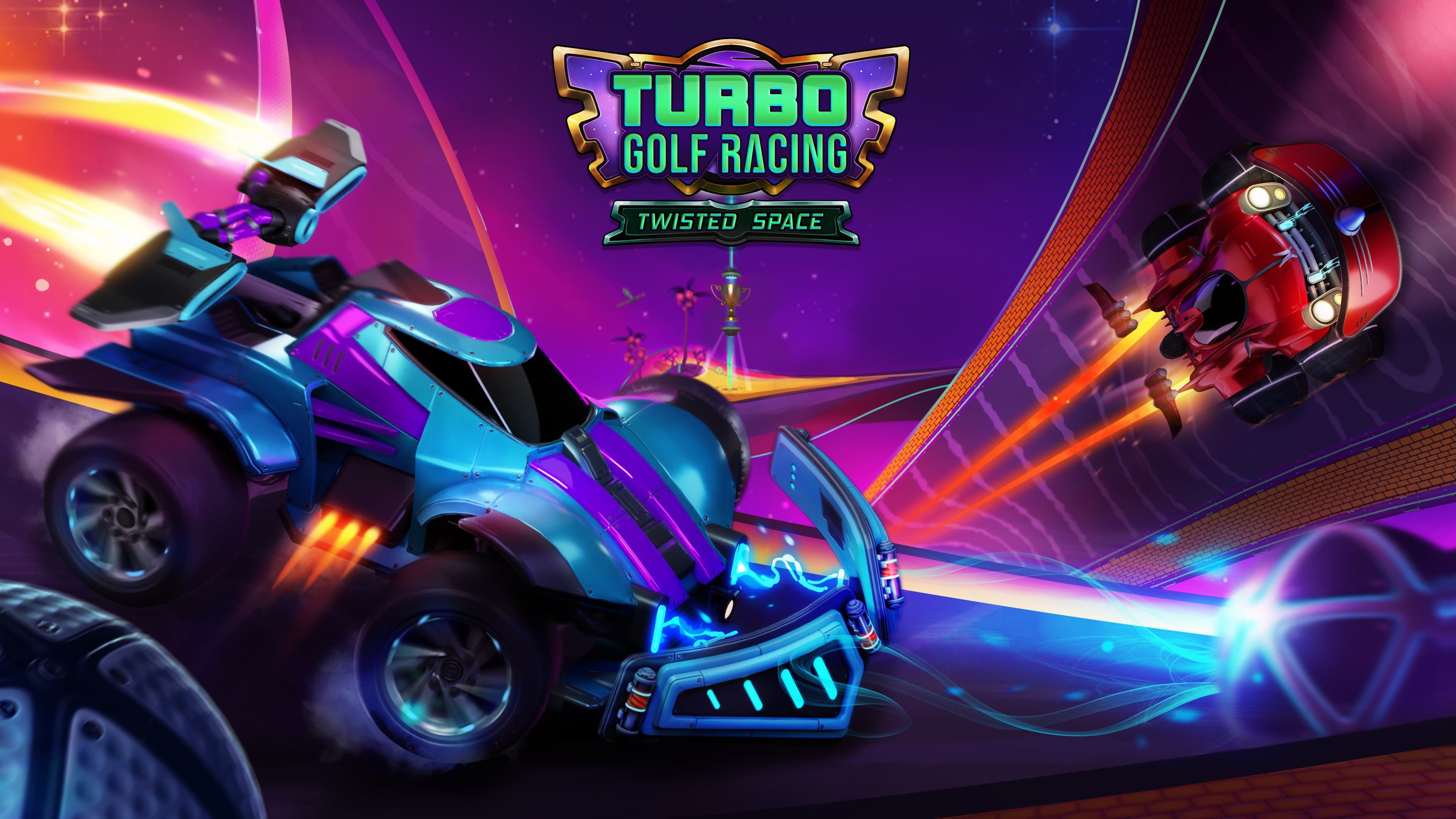 Turbo Golf Racing trades fairways for the Milky Way as Season Three launches into the void
Black holes and revolutions galore in Twisted Space, coming soon to Steam Free Weekend
Manchester, UK – 17 April 2023: Tee-minus three, two, one… Hugecalf Studios and Secret Mode is today announcing the launch of Turbo Golf Racing's third season: Twisted Space.
Available now for all players across Steam Early Access, Xbox Game Preview and Game Pass, Turbo Golf Racing: Twisted Space introduces a supergiant collection of new features including ten new space-themed courses with gravity-defying mechanics, a 40-level seasonal upgrade path filled with new cosmetic rewards, new post-match badges, Rank Points, Casual Queues, and much more.
Twisted Space will also be fully playable as part of Turbo Golf Racing's upcoming Steam Free Weekend, running from 18.00 (BST) | 19.00 (CEST) | 10.00 (PDT) on Thursday 20 April to 18.00 (BST) | 19.00 (CEST) | 10.00 (PDT) on Monday 24 April.
Accompanying the free release of Turbo Golf Racing: Twisted Space are two cosmetic DLC packs: the Tech Jet Supporters Pack DLC and Space Explorer's Galactic Ball Set DLC. Containing unique Epic and Legendary gear, these electrifying packs have been created for racers who want to traverse the new interstellar courses with the most stylish look possible.
The Tech Jet Supporters Pack (£2.99|$3.99|€3.99) contains eight exclusive cosmetic components for players to build the Tech Jet car, and the Space Explorer's Galactic Ball Set (£1.99|$1.99|€1.99) features seven unique celestial ball designs. Both packs are now available for purchase from platform stores and are accessible within Turbo Golf Racing's Garage.
The full feature list for Turbo Golf Racing: Twisted Space includes: Highlights:
Season 3: Twisted Space is here. Featuring new space levels, season rewards, music, and gravity bending gameplay
Added separate queues for casual and ranked
All Power Cores have been rebalanced
Leaderboards and ranks have been reset to make way for our new rating system
Two DLC packs including the legendary Tech Jet Supporters Pack and the Space Explorer's Galactic Ball Set
New Features:
40 rewards to obtain
Ten new space levels, spotlighting twisted gravity
Casual queue
New space lobby scene
Two new downloadable content packs, featuring 15 items
Added Trail Blazer core, increasing speed on boost pads
Added Off Roader core, mitigating negative terrain effects on car and ball
Three new space music tracks
Ten new shop items
Eight new avatars will be awarded for Season 2 rating placement
New missions have been added for the new cores and car bodies
The launch of Twisted Space follows Turbo Golf Racing's recent free Guardian Update, which delivered numerous free updates including Steam and Xbox Achievements. Highlights from free updates since August's Early Access release include:
Steam and Xbox Achievements
A whole host of balance and game feel improvements in-line with community feedback
Over 30 levels added, taking the total to 60+
Seven new power cores allowing more customisation and combos
Added bots in online matchmaking
Time Trial, Ranking and Win Count leaderboards
New and improved Ranked Points system
Improved matchmaking
Missions and adventures to unlock more cosmetics
New multiplayer pickups (Turbo Cannister, Mystery Core box)
Improved reset, respawn and out of bounds mechanics removed unintended skips and gives fairer resets
Cross-platform friends and parties between Steam and Xbox
Read full patch notes from all updates, including all bug fixes, at: https://turbogolf.racing/patch-notes
About Turbo Golf Racing
Turbo Golf Racing is a fast-paced arcade-style sports racing game for up to eight players, all competing to see whose speed-putting skills are up to par. Racers flip, glide, and dash their turbo-charged cars down winding fairways as they strike their oversized golf balls toward the finishing cup. Turbo Golf Racing has received multiple free content updates since its Early Access launch, and over one million players have teed-off across Steam, Xbox platforms and Game Pass.
Turbo Golf Racing is available via Steam Early Access and Xbox Game Preview on Xbox Series X|S, Xbox One and Microsoft Store with an RRP of £14.99 | €17.99 | $17.99. It is also available via Xbox Game Pass and PC Game Pass.
Turbo Golf Racing will participate in the Steam Free Weekend, running from 18.00 (BST) | 19.00 (CEST) | 10.00 (PDT) on Thursday 20 April to 18.00 (BST) | 19.00 (CEST) | 10.00 (PDT) on Monday 24 April.