Get clean for Halloween in A Little to the Left: Trick or Tidy Get clean for Halloween in A Little to the Left: Trick or Tidy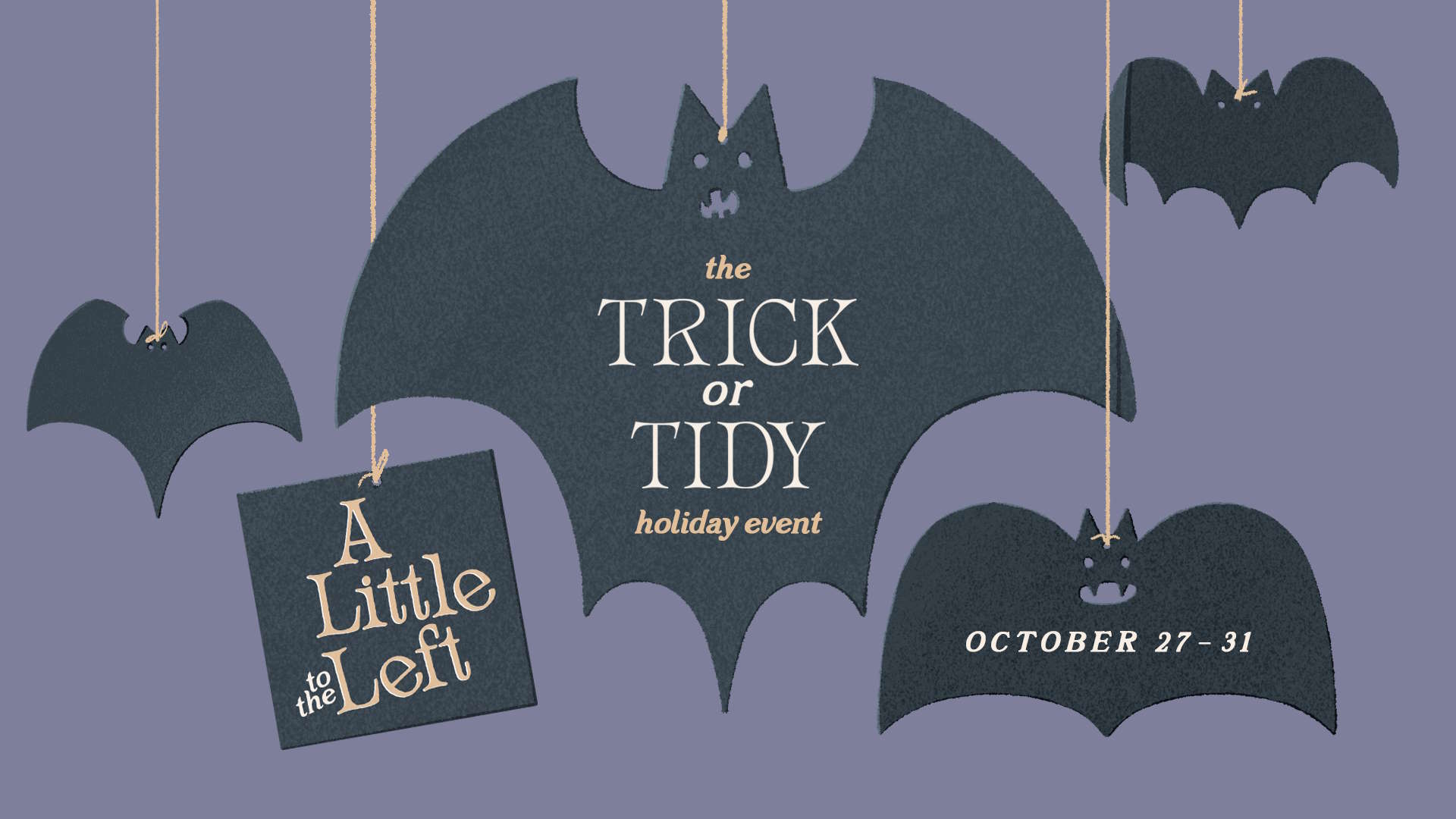 Five ghoulish new puzzles inbound for the season of scares
K'jipuktuk/Halifax, Nova Scotia, CA – 19 October 2023: "Something messy this way comes…" cackles A Little to the Left developer Max Inferno, pulling away the sheet to reveal its upcoming Trick or Tidy holiday event. Announced during DreadXP's Indie Horror Showcase, the next free batch of cauldron-brewed puzzles will be available to all A Little to the Left players across PC, Mac, and Nintendo Switch™ between 27-31 October.
Trick or Tidy will feature five head(stone)-scratching Halloween-themed puzzles, where the monsters in the back of the wardrobes and under the bed are finally taking revenge on those who stuff their lairs with junk. Some things are about to go bump in the night. You, poor victims, are tasked with cleaning up the resulting mess.
Those players intent on bolting the doors and drawing the curtains until Halloween is over? Your efforts are in vain. You should know that, like all good horror film villains, untidiness will always find a way to infiltrate the home. From 1 November 2023, all five Trick or Tidy levels will be added to A Little to the Left's Archive for permanent chills and spills.
The Indie Horror Showcase is currently in progress and is being co-streamed by IGN, Gamespot, The MIX (YouTube, Twitch.tv), HorrorVisuals' YouTube, and on DreadXP's YouTube and Steam publisher page. 
About A Little to the Left
Sort, stack, and organize household objects into just the right spot in A Little to the Left, a tidy puzzle game with a mischievous cat who likes to shake things up!
Puzzles hidden among household objects.
Multiple solutions make for intuitive and satisfying puzzle design.
A puzzle unique for you every day with the Daily Tidy Delivery.
Perfect for casual puzzle game fans and those who get a jolt of satisfaction from a well organized space.
Nintendo Switch page:
https://www.nintendo.com/store/products/a-little-to-the-left-cupboards-and-drawers-dlc-bundle-switch/
Steam page:
https://store.steampowered.com/bundle/32763/A_Little_to_the_Left_Cupboards__Drawers_DLC_Bundle/
Download assets from our press kit: https://www.dropbox.com/sh/myhze39ut1hllzv/AABb6IQdBX0UZiHlBK2g5wn9a?dl=0
A Little to the Left and the Cupboards & Drawers DLC are out now on PC, Mac, and Nintendo Switch™.

The Trick or Tidy holiday event is free for all players. It features a new puzzle in the Daily Tidy mode every day between 27-31 October, and all puzzles will be added to the Archive from 1 November.