1v1 Golf mode tees off in Turbo Golf Racing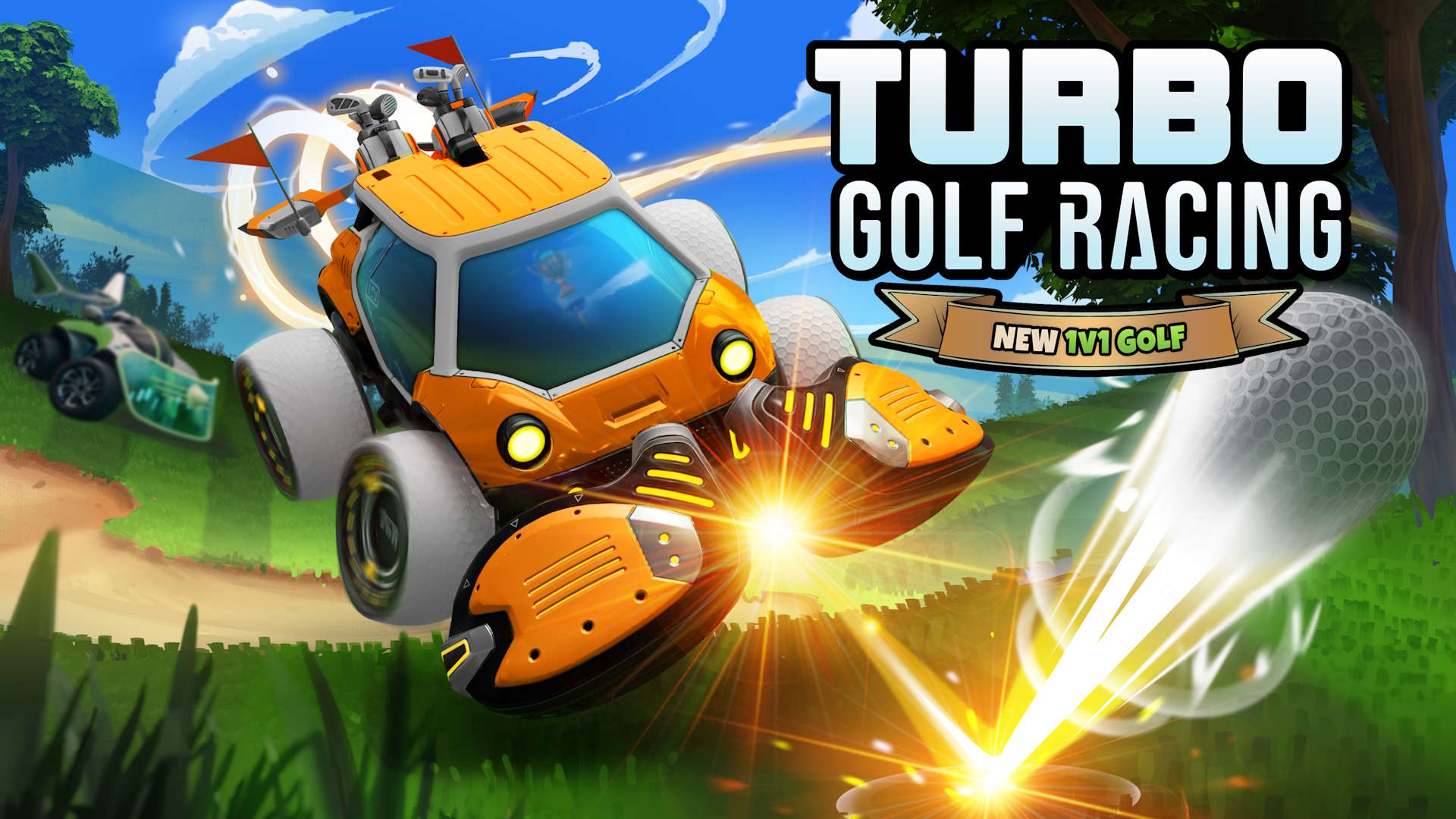 1v1 Golf mode tees off in Turbo Golf Racing
Swap speed for swings with a "hole" new way to play
Manchester, UK – 06 October 2023: Time to switch your stopwatch for a scorecard – developer Hugecalf Studios and publisher Secret Mode have traded turbochargers for tartan and practiced their polite applause for a more traditional eighteen holes in Turbo Golf Racing.
Golf mode - out now - brings a little serenity and even more skill to the rocket-fuelled extreme sports game, with fast-paced, eight-player races swapped out for a (slightly) more true-to-life, one-on-one, best-of-three showdown. Turbo golfers will need to accurately steer their ball to the end of the course in the fewest shots, with pars, birdies, eagles, and albatrosses to score for the most skilled golfers. Players can also make use of the game mode-exclusive aerial camera to plan their swings, and a new combined power dash mechanic to send the ball flying even further than before.
New Golfing and Progression adventures have also been added to encourage you to take a stroke or two off your golf game, alongside a wealth of other updates and improvements. And fret not, race fans – while Golf mode will be the default way to play for a limited time, classic Turbo Golf Racing and time trials will still be available to play.
The highlights from the latest update are:
Introducing Golf mode, a new way to experience TGR! Step into the ultimate 1v1 showdown, where precision triumphs over speed, and victory is achieved by fewest shots. Become aware of your surroundings with the exclusive aerial camera and hit your ball further than before with our combined power dash mechanic. Put your golfing skills to the test in casual or custom games
A new golf tutorial has been added to learn how to play
When using Grapple Hook, player balls now continue to move
There are two new adventures to complete: Golfing and Progression
Read full patch notes from all updates, including all bug fixes, at: https://turbogolf.racing/patch-notes
About Turbo Golf Racing
Turbo Golf Racing is a fast-paced arcade-style sports racing game for up to eight players, all competing to see whose speed-putting skills are up to par. Racers flip, glide, and dash their turbo-charged cars down winding fairways as they strike their oversized golf balls toward the finishing cup. Turbo Golf Racing has received multiple free content updates since its Early Access launch, and over one million players have teed-off across Steam, Xbox platforms and Game Pass.
Turbo Golf Racing is available via Steam Early Access and Xbox Game Preview on Xbox Series X|S, Xbox One and Microsoft Store with an RRP of £14.99 | €17.99 | $17.99. It is also available via Xbox Game Pass and PC Game Pass.